NEW FEATURES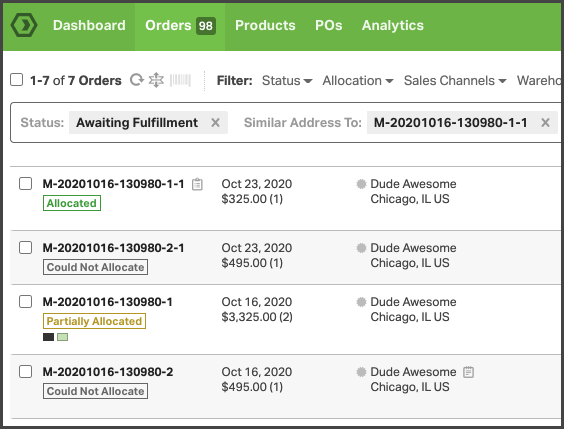 Inventory Allocation
As new orders import into your Ordoro account, you can now allocate stock to them — either manually or via automation rules — to ensure that you can safely ship them out. In a low stock situation, this means you have a much more efficient way to prioritize which orders you want to ship out first. What's more, allocation will not immediately affect your stock levels as inventory will only be deducted when an actual shipping label is created for the order, so you don't have to worry about your product counts getting out of whack. It just adds a badge to orders letting you know if they are ready to ship or not.
---
PRODUCT UPDATES
Reorder Kit Parents on Purchase Orders
This feature is a long-time coming, so we're happy to report that you can now add kit parent SKUs to your purchase orders. We only provide the kit parent (not the components) in the PO, so your supplier will need to know what components are required. On the flip, when you receive your reordered kits, we'll automatically calculate the inventory for all the kit components based on the quantity received.
Overhauled Tracking Number Writeback
We've made some improvements to our automated tracking number writeback process. If tracking fails to write back to your sales channel, we instantly queue it up to be retried another time. If it still doesn't go through after the retry, we tag the corresponding order in Ordoro with a "Failed Shipment Notification" tag to bring the mishap to your attention.
Please note, that this does not affect all of our integrated sales channels. For a list of supported carts, check out this handy article.
GlobalPost for Endicia USPS Accounts
Ordoro now displays GlobalPost shipping methods for Endicia USPS accounts with it enabled.
Learn more →
Assign Profiles in Bulk
When creating shipping labels for more than one order, you can now also set the channel profile for them in bulk.
Requested Shipping Method for Square Orders
When specified, orders imported from a Square sales channel will now display the Requested Shipping Method in Ordoro.
Importer of Record for International FedEx Shipments
When shipping from a non-US address, you can now specify the Importer of Record for FedEx shipments. This is handy if the recipient of the package is not the same as the Importer of Record, or IOR.